Profile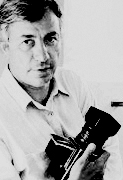 François Maréchal is a french photographer.
He was 14 when his father Jacques gave him his first Rolleiflex. After this initial introduction, photography very soon became a passion.
François Maréchal works as an illustrator and portrait photographer for France's most prestigious companies. His talent lies in an eye and sensitivity for expressions and characters that have made him one of the most sought-after photographers amongst French business leaders.
Sensual, sensitive, suggestive, François Maréchal's photographs, in their highly contemporary interpretation, revisit French tradition. His work reflects his investigation of light, line and material, founded in subtlety and emotion.
As a photographer of the senses, François Maréchal seeks to grasp the elegance of the soul.